Technology companies like Google, Facebook, and Amazon were repeatedly suspected of collecting and selling consumer data. In the past few years there have been numerous scandals and far-reaching escalations on the subject of data protection on Facebook alone. The Cambridge Analytica Causa was nothing more than the tip of a very cold iceberg. Passing on user data, hacks and explosive security gaps – the scandals on Facebook are not ending.
The New York Times reported on data deals between Facebook and more than 150 corporations, which were given far more extensive access to user data thanks to special internal agreements. The Microsoft search engine Bing is said to have had access to the full network of friends of the users concerned. And with Netflix and Spotify, they went one step further: they were even allowed to read private messages from Facebook users.
"Security app" becomes a security hole
The US broadcaster CNBC made it public that due to a security vulnerability, it was practically possible for anyone to view the membership list of private Facebook groups. In 2018, the Apple group also urged Facebook to remove the Onavo application from its in-house app store. The so-called "security app" collected critical data from users without their knowledge. This data was mainly used by Facebook to locate possible competitors and knock them out early on.
Facebook itself repeatedly had scandals with so-called security gaps, which in one special case are said to have led to unauthorized access to around 50 million user accounts. Highly sensitive data and information on age, gender, language, place of residence, date of birth, relationship status, religion, education and job were stolen from millions of people affected. A particularly delicate detail about this story: the hackers were able to access chronological records of the last places where the victims were located when they logged on to Facebook. The demographic data of the locations of the users who were marked on photos by other users, was also part of the stolen data package. The historically largest Facebook hack to date.
WhatsApp founder was pressured to appease
WhatsApp founder Brian Acton felt the same way: In an interview, he revealed that he had been urged by corporate management to downplay and appease the issue of data transfer from WhatsApp to Facebook to the EU Commission. Acton spoke out very clearly to the US magazine Forbes, namely that he has literally sold the privacy of millions of users of his platform.
More than ever – and obviously rightly so – Facebook is under political and economic pressure. There are now 47 listed Facebook scandals. Zuckerberg seems already routine when he expresses his regrets and promises an improvement. There are of course no consequences. The success of Facebook and WhatsApp is unbroken. The growth of the data corporations is basically based on two things: The corresponding ruthlessness to make good deals in cold data traffic and the unbroken willingness to lie at the right moment and continue to deceive the user.
Facebook under pressure – an opportunity for innovative alternatives
Of almost 8 billion people worldwide, over 2.6 billion people now use the services of Facebook, WhatsApp and Instagram. The criticism of the data corporations and the growing awareness of users mean that people are looking more and more for alternatives. In particular, the desire for a secure messenger was loud. Services such as Telegram or Signal experienced a rapid upward trend. Security and privacy are becoming important again. Skepticism towards the data giants is growing.
Paraiba Talk is a complete digital ecosystem for highly secure and private online communication. The services offered include a messenger with chat, audio / video calls, a tool for web conferences, as well as e-mail and file transfer. The company's promise is simple: "Your data is safe with us. Nobody is spying on you! "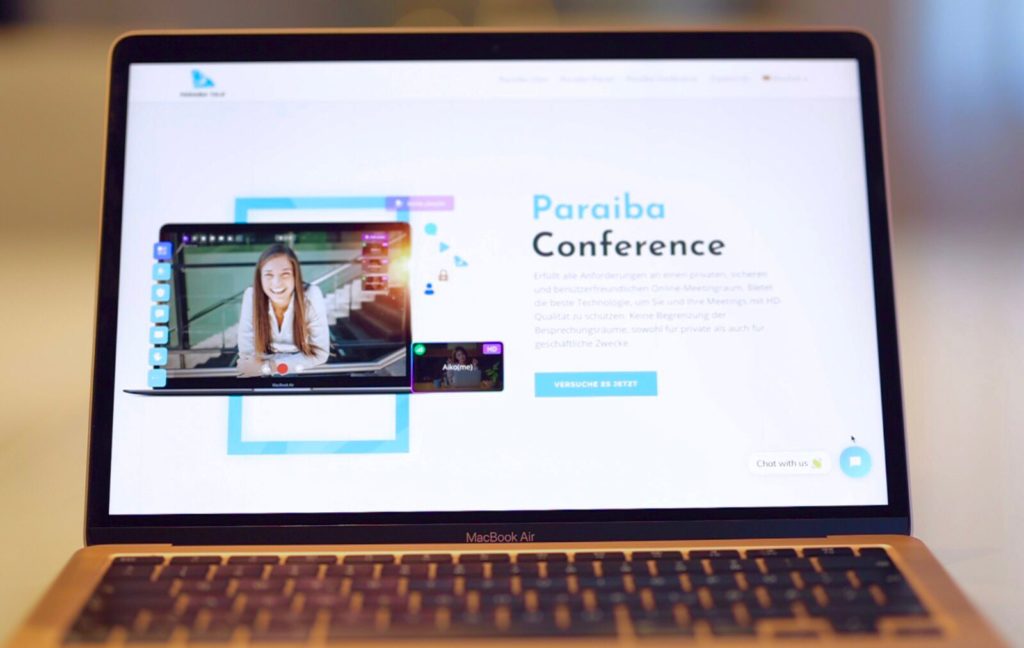 Highly secure data exchange with Paraiba Talk
All messages sent with the Paraiba Talk APP are fully encrypted and can only be read by the sender and recipient. Not even the operators themselves can see your messages! And for added security, the app allows you to hide your sent messages instantly!
Put an end to 24/7 spying
"Do not use apps that pick up your personal data, record your private conversations and then offer them for sale to everyone. Who wants to be spied on voluntarily 24/7? Paraiba Talk gives you back your freedom and privacy. Your personal information is your greatest asset and it should not be accessed by anyone but you. We'll put the world back in order. Our motto is "Power to the People!"
"We have created a high-security encryption tool called 'CCC', which was previously only available to large corporations and government agencies. But now with Paraiba Talk, each of us can transmit confidential documents in the peace of mind that they are safe from all eyes. With Paraiba Talk you get back your basic right to privacy."
And what about the topic of "deleting messages"? If you decide to delete a message, it will actually be deleted – forever.
Provider's website: https://paraibatalk.com
Paraiba Talk is a far-reaching digital communication service that protects the privacy of its users as the greatest asset through highly secure data exchange. Services such as messenger with chat, audio / video calls, web conferences, as well as e-mail and file transfer create an entire communication network at the highest level of security. The company's promise is as clear as it is simple: "Put an end to data espionage! Nobody reads or listens to your messages except yourself. Power to the People!"